Deposition Video Transcripts
Lengthy depositions create hours of work for you and takes time away from your firm.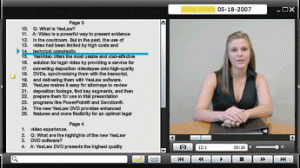 Why hire questionably qualified outside help to sync your depositions when the litigation specialists at CopyScan Technologies have done it longer and better than anyone else?
CopyScan Technologies has produced AV transcripts for top South Florida Law Firms and Corporate Legal Departments for over two decades. Our facility is equipped with advanced editing software, so you will get your transcriptions finished fast.
We do it all in-house here at CopyScan Technologies to ensure your depositions never wind up in the wrong hands. CopyScan Technologies facilities are secure and HIPAA compliant and our highly-trained staff adheres to the highest standards of confidentiality.
One word can change the outcome of your case. Don't hand over your deposition transcriptions to a company that doesn't guarantee accuracy.