A jury looks closely at the evidence… So do we.
Substandard materials, sloppy mounting techniques and low resolution images don't cut it in court. But that's exactly what you'll get from a lot of other so-called litigation support companies that use third-party vendors to make your trial exhibits.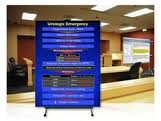 CopyScan Technologies does everything right here, in-house.  We have a professional graphic design department staffed by highly trained specialists who make trial boards, video trial exhibits and large format images that capture the jury's attention and give legal professionals peace of mind.
Yes!  We do trial boards. Better than anyone else!