CopyScan Technologies – One Stop For All Your EMR/EHR Needs.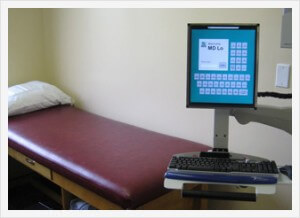 Recent HIPAA and EMR/EHR legislation have brought sweeping changes to the medical profession regarding the management of your patient charts.  Now anyone inside or outside of your office — physicians, vendors, even other patients — can create a potential and recurring liability for your medical practice with stiff fines for mishandling or exposing patient records.  Anybody with a software program and a personal office scanner can make big promises about migrating your medical practice to EMRs.  But only CopyScan Technologies can deliver a scalable EMR program built and designed from a national EMR leader.
Key benfits of the CopyScan Technologies EMR System:
Saves Physician & Staff Time — An average of 2 hours each day!
Elevates Patient Care
Increases Staff Productivity
Eliminates Charts, Transcriptions & Filing Costs
Fully Integrates With Your Existing Practice Management System
The CopyScan Technologies EMR solution is fully automated; touching your operations, your appointments, prescriptions and more.
Kiosks installed in your exam rooms and at the appointment desk allows your patient records to be entered quickly and efficiently.  The optional lobby touchscreen kiosk also allows your patients to enter their personal information and chief complaint, which flows directly into your system.
CopyScan Technologies is South Florida's premier HIPAA-Compliant medical document scanning provider with a full range of EMR and medical scanning solutions designed to meet your customized requirements.
Why threaten the future of your practice with questionable business partnerships or a vendor that doesn't meet HIPAA compliance regulations?  Rely on the South Florida EMR experts at CopyScan Technologies.
CopyScan Technologies exclusive in-house services:
Document copying; Document Scanning and OCR; Large Format Printing; Medical and Legal Media Duplication; Graphic Design; EMR and Patient Medical Record Scanning.